How do I create an invoice?
In Bokio's Invoice section, you can easily create and send invoices directly to your customers. Here you can also indicate whether an invoice has been paid or overpaid, if it is late for payment and requires a reminder, or if you want to credit an invoice. This is also where you record your invoices.
If you use the accrual (invoice) method, you must record when the invoice is sent and when it is paid. When using the cash method, the invoice needs to be recorded only on the date it is paid by the customer.
Go to "Invoice" in the left-hand menu and click "Create new invoice". You can also click on the down arrow next to it and select "Create a new cash invoice or credit note". 
Step 1: Upload your company logo
If you haven't already uploaded your company logo under settings, you can do so by clicking on "..." on this page.


Step 2: Edit company settings
The company information is pre-populated if you've entered this under "Settings". If you're creating your first invoice, you must now go in and enter the payment details for domestic and international payments. Click "Edit".

This is also where you enter the payment methods for domestic and international payments. You can currently select only one domestic payment method and one international payment method. If you want to add multiple payment methods, you can do this by adding a line of text to the items. If you add both domestic and international payment details, the domestic payment details will be stated on invoices to UK customers and the international payment details on invoices to customers abroad. This is adjusted automatically depending on the customer's settings. To apply reverse-charge VAT in respect of sales to customers abroad, you must enter the correct VAT number for your own company and your customer's company.
It's a good idea to always preview the invoice to make sure that the information is correct. Click "Publish invoice" and then "Preview" at the bottom of the page.
Step 3: Add or create new customer
In the next step, we'll add a customer. If the customer has previously been loaded, we can select it from the list. If not, we can create a new customer by clicking "Create new". You can create UK and overseas customers and send your invoice in another currency. Find out more about how to add a customer.

Step 4: Add items and services
Now it's time to add items and/or services to the invoice. Click "Add new row".

You can now click through all the existing products. You can also search for an item or service in the search field or create a completely new item or service.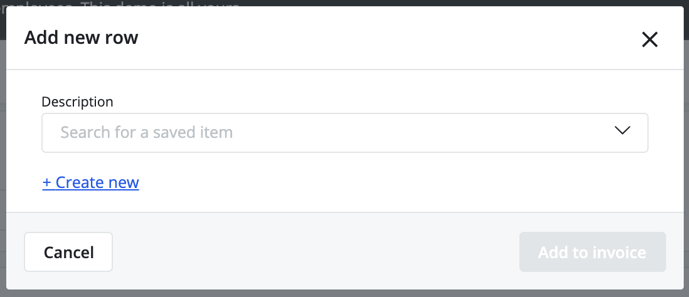 Create a new item by entering the item name. Enter the quantity, price, VAT rate, and whether it is goods or services. To save the item for future use tick the box "Save as item". To add the item to the invoice, click "Save".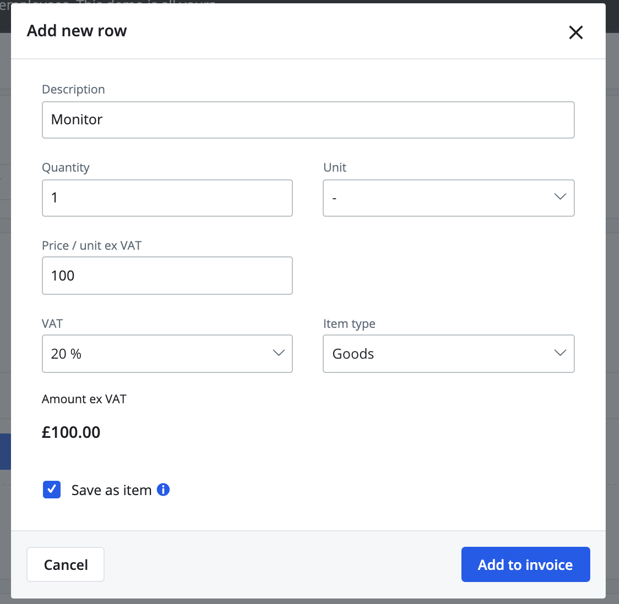 In addition to items and services, you can add lines of text or import time reporting from Toggl. Lines of text can contain information that there isn't space for in any of the other invoice settings, such as additional payment details or information that's required.
Select currency
In Bokio, although everything is recorded in British pounds, you can invoice your customers in another currency.
If you choose a currency other than GBP, the current exchange rate is calculated and registered when you enter the invoice or when payment is received.

Step 5: Invoice settings
Remember that you cannot create an invoice with an invoice date in the future. It may, however, be dated earlier. Although the details are retrieved from the customer's settings, you can change them on the specific invoice. Click on the drop-down menus to select the invoice or due date.

Step 6: Preview and publish invoice
Before the invoice is sent to the customer and published to your records, you can, if you wish, preview it. Each invoice delivery method has the option to view a "Preview PDF". The invoice is then exported as a PDF and you are able to view a copy of how your finished invoice will look. You can also choose to "Save as draft" button if you want to continue your invoice later on. Please note that an invoice is never given an invoice number until they are published.
Once you're ready, you can select a delivery method for your invoice. With Bokio you have the option to send an email directly to your customer, with either a link or an attached PDF version of the invoice. Fill in your customer's email and select "Send and publish".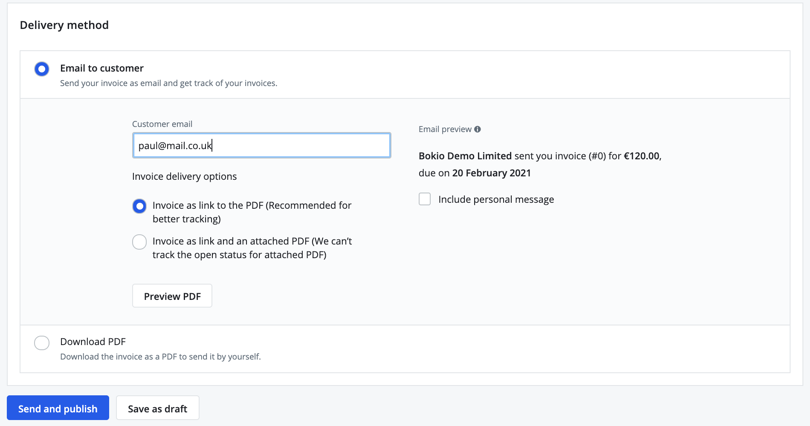 If you'd rather download the invoice as a PDF to then send to the customer, click "Download PDF" in the tabs, then "Download and publish". This can be a good option if, for example, you want to send an invoice to multiple email addresses as this is not supported in Bokio at this time.
Once the invoice has been published, you will be redirected to the invoice summary page, which will show you the date the invoice was published, the delivery history and accounting history.
The invoice in the example was sent to paul@mail.co.uk on 30 January 2020. The delivery status is "Sent". This means that the invoice has been successfully sent to the specified email address. If the invoice could not be successfully delivered to the recipient for any reason, the invoice status will show "Failed". A complete list of available email delivery status can be viewed here.

If the invoice has been opened by your customer, the delivery status will show "Opened". The email status will update automatically and can also be viewed in the invoice list page, and it's a good idea to keep track of these to make sure all invoices have been delivered.
The next step is to mark the invoice as paid.
Step 7: Recording invoices
Once an invoice has been saved and published for the first time in Bokio you can choose to record your invoices automatically or not.
We recommend that you activate this feature if you also do your bookkeeping in Bokio. If you only use Bokio as an invoicing software then you shouldn't activate this feature.
If you change your mind about the decision you made on the pop to up you can change this by going to Settings → Invoices and choose Automatic recording.