Five steps to get started with Bokio
Start by creating your Bokio account.
The first thing you see when you log into your account and company is the overview. Here you'll find a starter guide that will help you get started with accounting, invoicing, supplier invoices and expenses.
Features available in Bokio
Bookkeeping - smart accounting with ready-made accounting templates
Invoicing - Create, send, track and record invoices all in the same place
Expenses - Add your employees as users and let them upload their expenses themselves
Supplier invoices - Add supplier invoices and get notified if they go overdue
In the next 5 steps, we'll walk you through what you should do to get started with Bokio. We can help you manage your accounting whether you have been in business for several years or have just begun.
1. Check the opening balances
If you have just started your company then you probably have no opening balances. However, you may have brought in money before the company was registered. You can record this on the start date, ie the first day of the first financial year.
If you have previous accounting, you should obtain the balance sheet from your final year end accounts or if you don't have these yet from your previous accounting software.
Read this guide to set up the first year's opening balances
2. Check the settings
When you create your Bokio account you will be given the opportunity to fill in contact information, company information and settings such as accounting method and when your fiscal year begins. If you have not done this or are unsure if you entered correctly, you can go to Settings to check.
Read more about your fiscal year settings
Under Settings, you can also upload your company's logo, add more users, set up a receipt inbox, change your billing settings, your personal settings and passwords. 
3. Add payment accounts
Under Settings → Payment accounts you will find the accounts that are available for recording payments. This will define which accounts can have bank feeds set up, can record payments against invoices and record payments manually through the record button.
Here you can click on the account that should be the default account when entering bookkeeping records for expenses. Payment accounts should only be balance sheet accounts, which means that only accounts below 4000 may be used as payment accounts.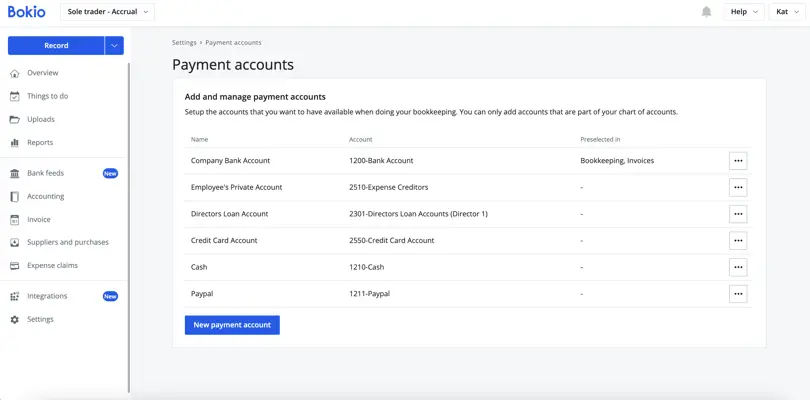 Note that you cannot add accounts that are not included in Bokio's chart of accounts.
Default account = the preselected account when bookkeeping
Invoice account = the preselected account when recording customer invoices created in Bokio
Note that you will always be able to choose between all the payment accounts added, regardless of the default account.
Click Add payment account to add a new account that is available when recording transactions.
Enter the name and number of the account. You can also choose whether the account should be managed when recording in different categories. When you're done, click Save.
4. Set up bank feeds
Setting up bank feeds in Bokio through our open banking partner Plaid is an easy process. You can find it by clicking on bank feeds on our menu on the left hand side and then follow the instructions to set up bank feeds. You can find more information on how to set up bank feeds here.
5. Start recording transactions
Now you are ready to start using Bokio!