Create your Bokio account
Create your free account at app.bokio.co.uk. Click "Create free account".
First you should enter your e-mail address and your first and last name. Make sure you read our general terms and conditions and the personal data processing agreement.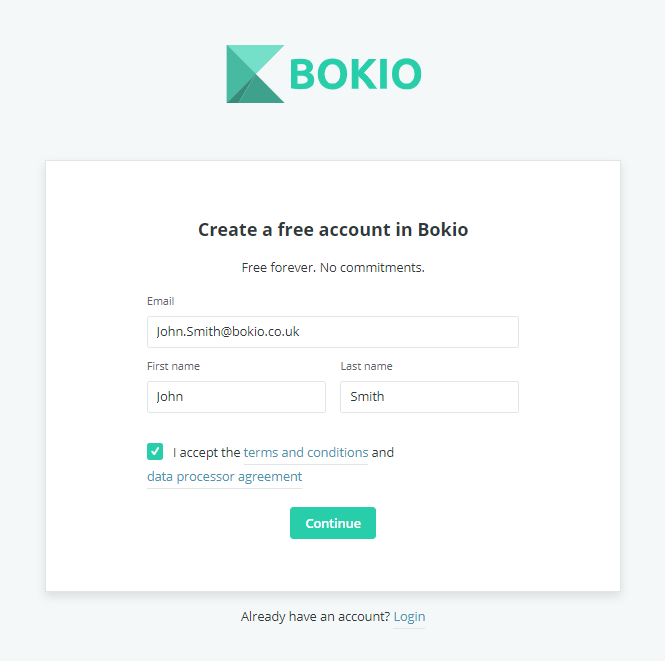 When you click "Continue", an e-mail will be sent to you containing a link to activate your e-mail address. Alternatively, you can enter the code included in the e-mail and then click "Continue".
Check your spam folder if you don't receive the e-mail, or click "Resend" to get a new activation code. If you still don't receive the e-mail, please just get in touch with us at support@bokio.co.uk and we'll be happy to help.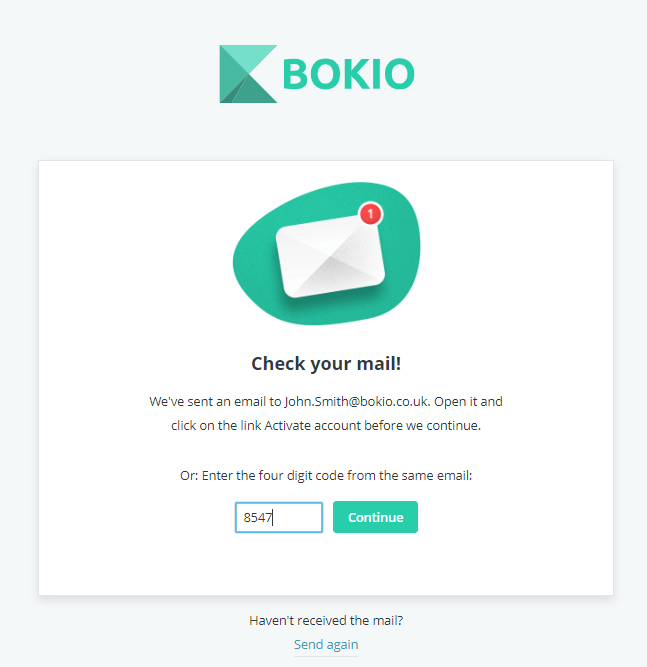 Step 1: Select a password
Once you've activated your e-mail address, you'll need to choose a password. Choose a password that is as strong as possible. Click "Continue".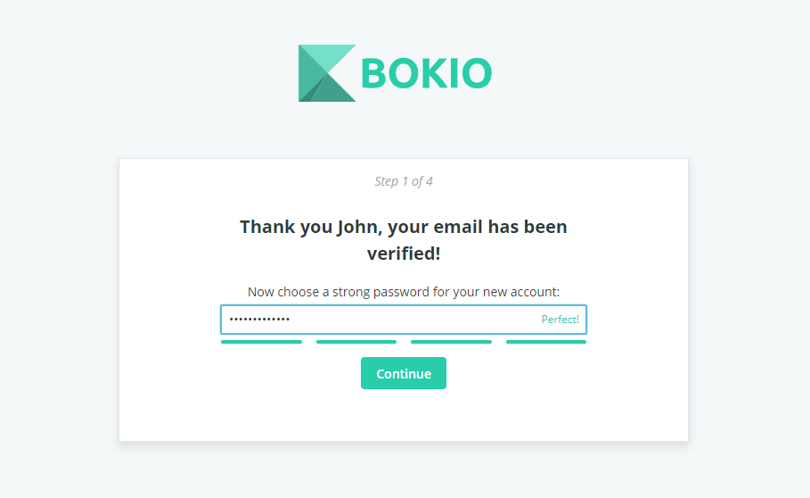 Step 2: Add your company
You can now search for your company from Companies House and retrieve the company information directly from there. If the company isn't registered yet, or if you can't find the right company, just click "Continue" to proceed.
I can't find my company when searching in Companies House
Is your company registered with Companies House?
"Ltd" can sometimes be entered as "limited" with Companies House. Try searching for this instead.
The system may struggle to find your company name if it contains characters other than letters. Try removing these and then search again (for example, if your company is called "Hannah & Co" try "Hannah Co" instead).
Once you've created your first company in Bokio, you can create multiple companies under the same username.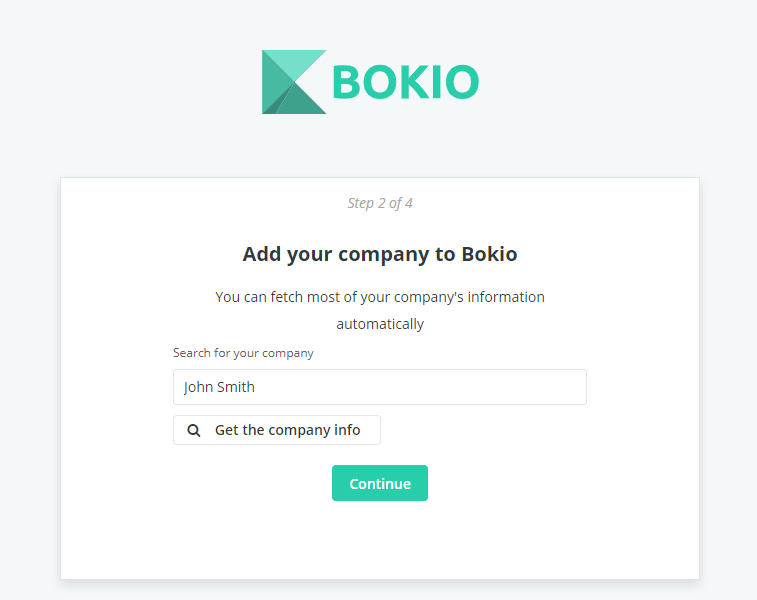 Once you find your company, click on it, then "Continue", and the details will be imported directly.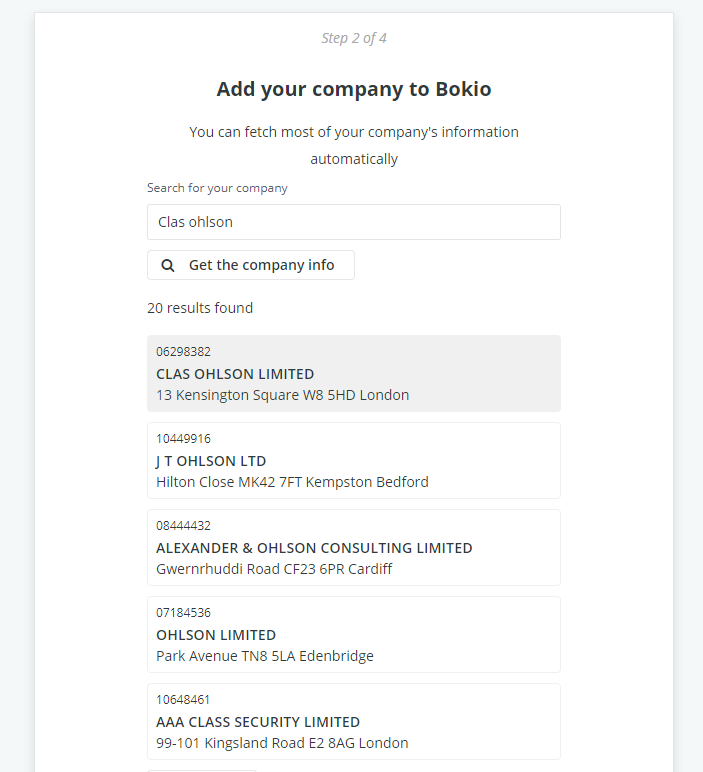 Step 3: Enter the company details
In this case, the company was not listed with Companies House, so the details have to be entered manually. This can also be done and changed later after you've created your company in Bokio.
The company's unique identifier is the company number if it is a Limited company or Unique Tax Reference (UTR) if they are a Sole Trader.
In terms of company type, in Bokio you can choose Limited Company or Sole Trader.
The address is the registered address of the company.
Not all details need to be filled in now. You can edit them later on in Settings → Contact details & Company type. Click "Continue" to proceed.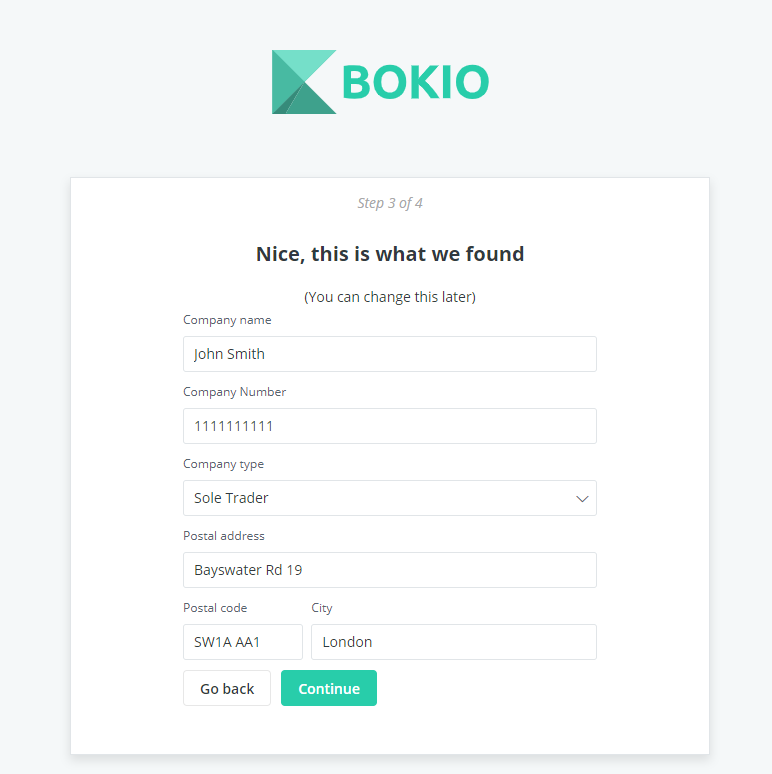 Step 4: Customise your business
Set whether your company uses cash or accrual method and how often VAT is to be reported or if you are not registered for VAT. Find out more about VAT in Bokio.
Finally, you should choose whether your company is a start-up or at least one set of accounts have been prepared (i.e. there are previous fiscal years). If previous accounts have been prepared, you must also set the month that the company's fiscal year ends in. It's important that the fiscal year settings are correct before you start entering bookkeeping records (if the fiscal year doesn't follow the calendar year, this is called a split fiscal year). Find out more about fiscal years in Bokio.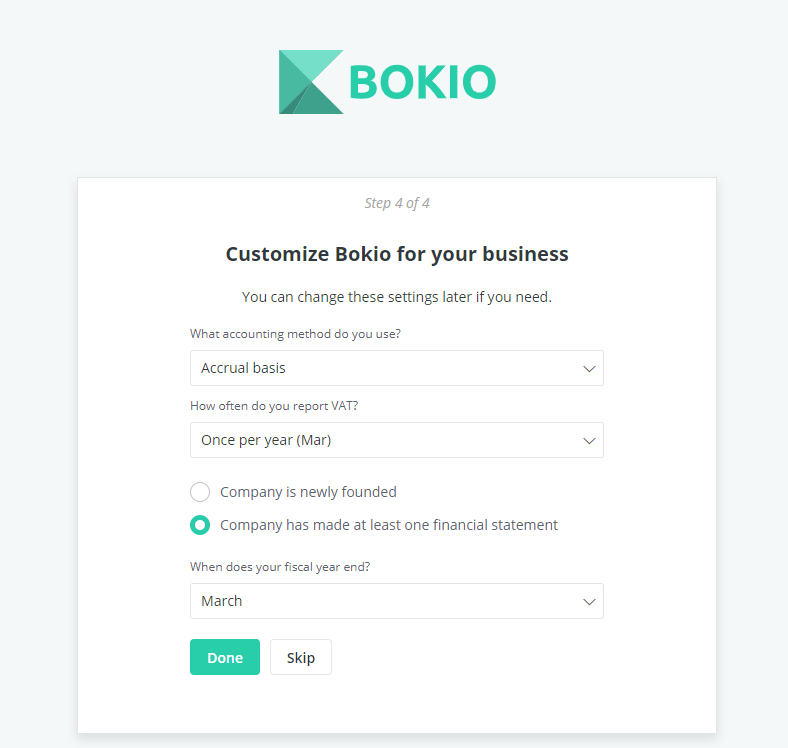 Done! Now you can start using Bokio.