Does Bokio have a mobile app?
With Bokio's mobile app you can quickly and easily upload your accounting material to your To do list.
The app is available to download for free on Apple and Android devices. Go to the Google Play Store or App Store, search for "Bokio" and you'll find the app.
This is just the first feature of Bokio's mobile app. If you have any features you want to see or ideas of what we should build next, you are more than welcome to contact us at support@bokio.co.uk.
How does the app work?
Keep your receipts and invoices on the go
Log in with your Bokio account, select the company (if you have more than one), click on the camera icon and take a picture of your document.

Upload from your gallery
Have you received an invoice by email or already taken a picture of your document? Then you can upload the image directly from your gallery. For formats other than image files (for example, PDF) you can easily take a screenshot with your mobile. You can categories and add an optional description to your materials to make it easy when you record them on the web.
You can also share files to the Bokio app with a share extension. This means you can share files from your email, photos, Cloud or Drive with just a few clicks. Press the share button on the file you want, then choose the Bokio app option. You'll then be able to upload the file Bokio from the app.
Add more pages
Occasionally, the document you want to add might have more than one page. Once you've taken a picture or uploaded from your gallery, simply click Add page to add more pages to your material.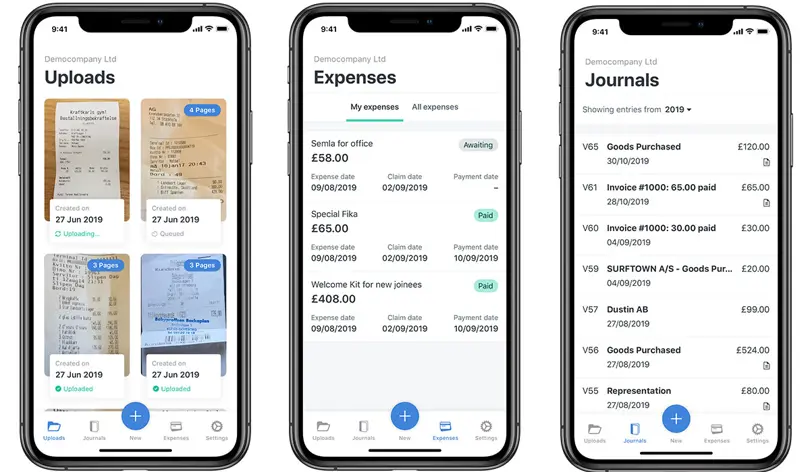 Automatically syncs with your To do
As soon as you save the document, it is automatically uploaded to your To do list in your company in Bokio. In the app you can see all the items in your To do list that have not yet been recorded.
Go to Bokio on the web
When you're ready to record your items it's time to go to Bokio on the web. There, you can record the uploaded material in your To do list.
Manage expenses
You and your employees can submit your expenses straight from the app. Your employees get a dedicated view where they can only upload their expenses. As an employer you can approve or deny the expenses your employees upload.
Journal entries
View your existing journal entries on the go. You can also add receipts to your existing journal entries.
Now you have full control of your accounting!