Get a free invoice template
Getting paid is critical for the livelihood of your business. You need your customers to pay on time and be aware of the terms and conditions attached to the transaction. 
Therefore, sending out complete invoices with a professional look is important. Get rid of the good old Excel or Word invoices you used to send, it's time to step up. 
Generate professional invoices
Bokio enables you to generate customisable invoice templates. It's easy and free. You will be able to record the invoice in your accounts quickly and easily so you don't have to worry about accounting with spreadsheets anymore.
Our free invoicing software has been designed to help you as a small business owner to send efficient and professional invoices.
Take a sneak peek at how the invoices look.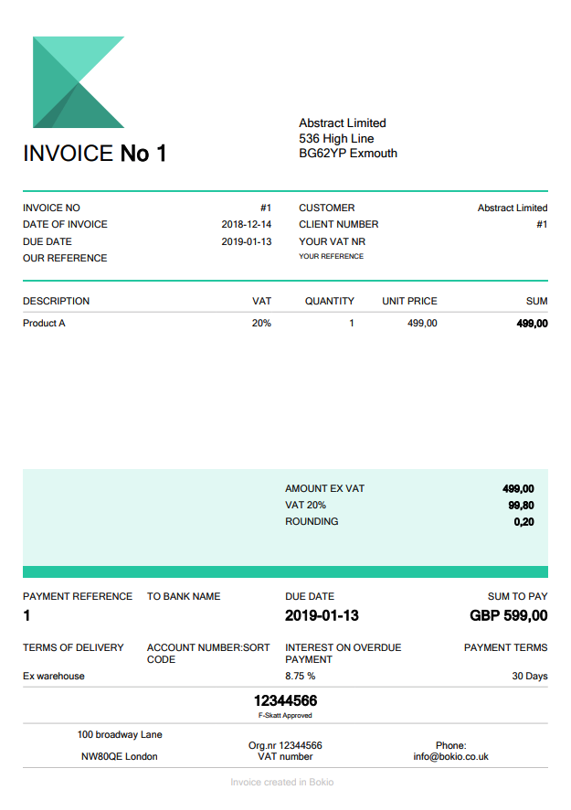 Benefits of using our free invoicing software - get more from invoices
Easy to use
All you need to do is to make sure you have updated your company's details (logo, address, email, invoice number). Add your customer's contact in the system and articles or services sold. But no worries, we guide you all the way through the creation of invoices. 
Save time 
Many small businesses like yours have loyal customers to whom they frequently send invoices. Create customers and articles rows once and for all and they will be saved in the system. This will spare you some time for future invoices by avoiding handling them manually. Any information you may need will be available in one click. 
Save money
Not being paid on time can lead to profit loss, troubles with cash flow, and down the line the jeopardy of your business. One secure way of avoiding this is to make sure that your customers receive correct invoices which contains relevant information like the due date. 
Tip: The 'To do' section in Bokio's invoicing software helps you to keep track of overdue and up coming invoices. 
Send invoices directly to your customers
Send invoices to your customers by email directly from Bokio or download the template in PDF format.
Not using Bokio yet?
Start creating invoices with Bokio for free and find help on getting started.
You might also be interested in