To do - Do now
You'll find five tabs under "To do now":
Record bank transactions
Record receipt or invoice
Get paid for
Things to pay
Schedule payment
These are always open in the default mode, but you can close and open them as you want to see what needs to be done in each category. By hovering the mouse over the lines in "To do", you can see your options on the buttons that pop up.

Record transactions
To record imported transactions from your bank feed, read our guide here.
Record receipt or invoice
This can be in the form expenses, uploaded material such as receipts and invoices, and saved (non-recorded) supplier invoices.
I have documentation in "To do" that has already been recorded
If you delete (not cancel) a journal entry in your bookkeeping records, its documentation will return to "To do" automatically. If the documentation is not to be recorded, you can remove the row. This way there is nothing that can affect the journal entries.
Get paid for
Get paid for consists of customer invoices that you created in Bokio where the due date has passed. The customer should therefore have paid. You can register a payment on the invoice directly from "To do". You can click through to the invoice in question via the edit icon to, for example, send a reminder to the customer.
Things to pay
Under Things to pay you'll find saved supplier invoices where the due date has passed. You must make sure that these are paid. If you want to register and record a supplier invoice as paid, click "Register payment". To register a payment, the supplier invoice must first be recorded (either provisionally if you use the cash method, or recorded as an account payable if you use the invoice method).

Click "Register payment". Select a payment account and payment date, and enter the amount paid.
We will also show if there is a suggested match with a bank transaction, in which case you will not be able to edit the items in the below pop up.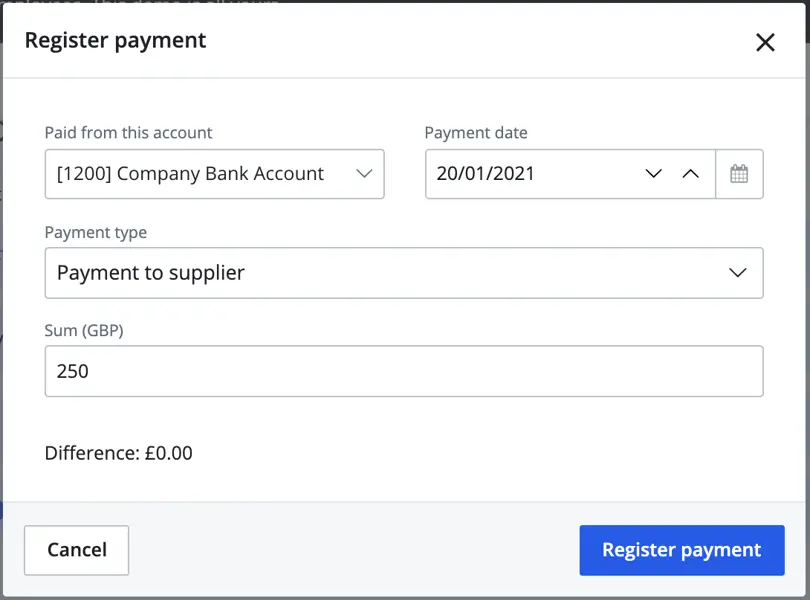 Schedule payment
Here you'll find recorded expenses whose payment needs to be scheduled. Click "Schedule payment" and you'll come to the page for paying expenses. You can access the expense item in the expenses function via the edit (...) button.