Part payment of supplier invoice
If you have a supplier invoice to be paid in instalments, you can manage this in Bokio by registering each instalment separately on the invoice. Start by uploading the supplier invoice.
If you use the accrual (invoice) method, the purchase is recorded on the invoice date as an account payable. If you use the cash method, the record is saved provisionally as a supplier invoice until payment is registered.
Register each instalment separately. First, find your invoice under Suppliers and purchases → Supplier invoices.Once you've selected your supplier invoice, click the Register payment button in the top right. Alternatively, you can do this straight from your To do list using your bank feed.


Enter the amount of the first instalment and select the payment account and the date the first instalment was paid.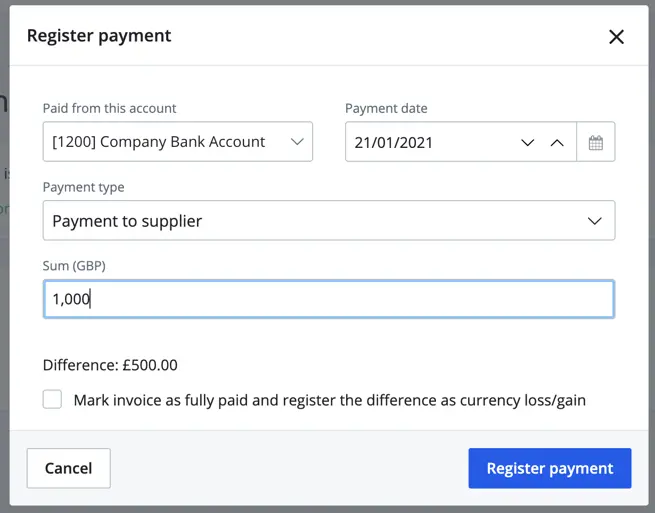 The payment is recorded and the status of the invoice becomes "Underpaid".

Subsequent payments of the invoice can be managed in the same way as above. On the "Supplier invoices" page you can choose to display only invoices with the status "Underpaid". If you have many invoices like this, in this way you can quickly access the invoice the next time you register a payment.

You can also register the payment from the Things to do page.