New feature! Get started with recurring invoices
You don't need to spend extra time creating invoices to send to your customers on a recurring basis. Plus, you don't need to worry about forgetting to send an invoice. In Bokio, you can set up recurring invoices for your customers and get a reminder of when it's time to send the next invoice.


What are recurring invoices?
Recurring invoices mean that you send invoices to customers repeatedly on a regular basis, for example each week, month, quarter or year. If you have several customers who have the same invoice, you can save a lot of time when you don't have to manually create new invoices again and again.
Get a reminder when it's time to invoice
In Bokio, your recurring invoices are automatically created as a draft at the time interval you have set. When it's time to invoice your customer, you'll receive a reminder both by email and as a push notification if you want!
Go to Settings → Manage notifications and turn on the setting you want under Recurring invoice has been generated.
Get started with recurring invoices
Start by creating your invoice as usual. To create an invoice on a recurring basis, click the Recurring invoice checkbox under Terms.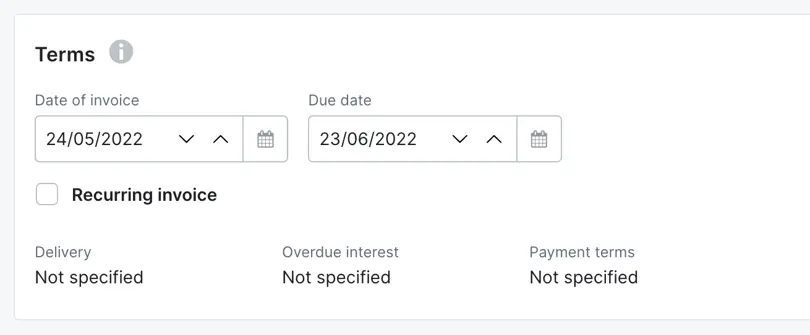 First set Date of next invoice, which is the day the very first invoice will be created. Then choose the frequency with which the invoice will be created. The frequency can be weekly, monthly, quarterly or annually.

When you are done with setting up your invoice, click on Create recurring invoice (nothing is being sent to your customer yet). This recurring invoice will be the template that generates invoices for you.
Right now, the invoice is not sent automatically, but it is something we plan to add in the future.
Keep track of your invoices in Things to do
So you don't miss when an invoice draft is created, they are added to Things to do under Review then Invoices. They only disappear after you have published the invoice or deleted it.
Start creating recurring invoices


Note: This article was updated August 2023
You may also be interested in