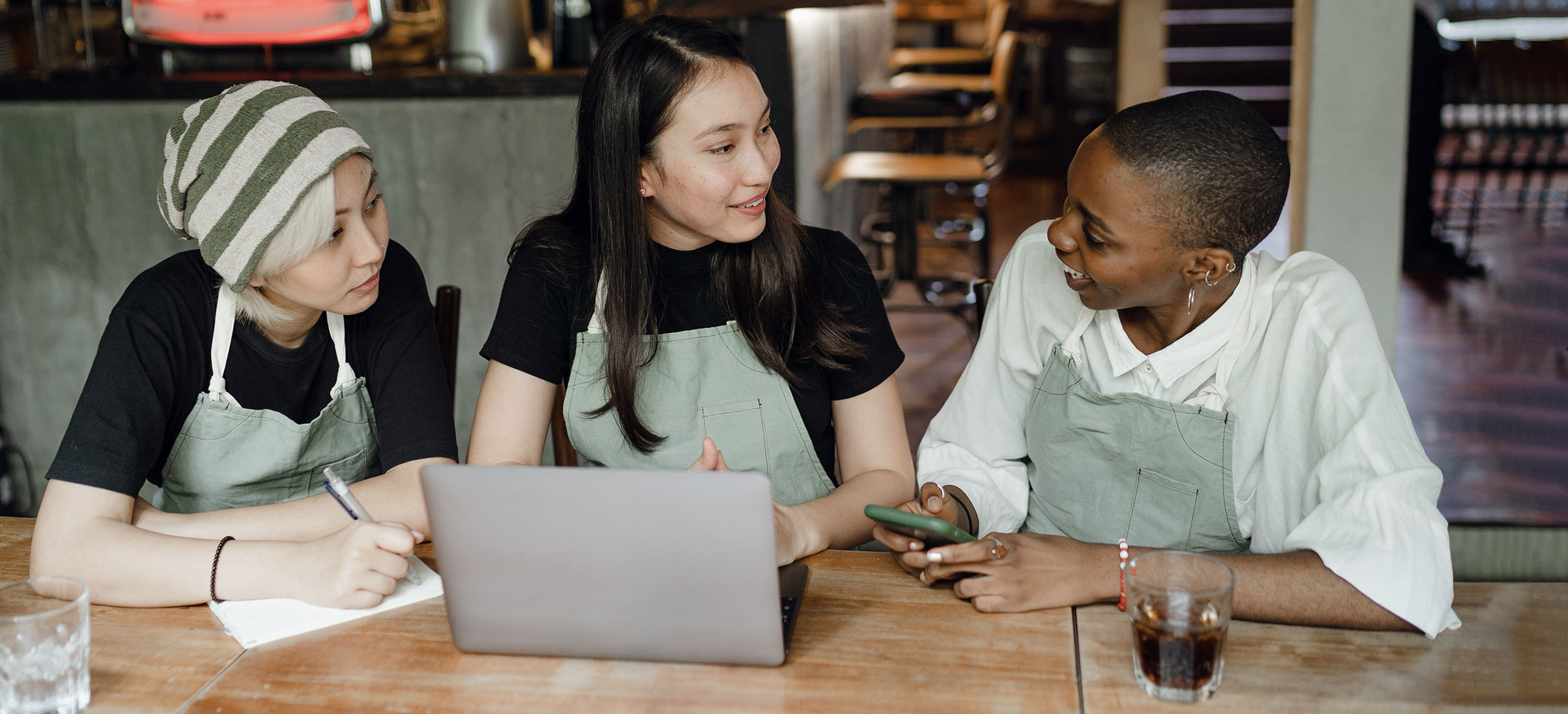 Benefits of accounting software for small businesses
If you're a small business or sole trader looking at how to do their accounting, choosing an online accounting software is a great option. Intuitive online solutions have lots of benefits to save you time, get organised and understand your finances. Plus, there are lots of things to consider when choosing the right software for you. In this guide, we'll talk you through the process.
Why an accounting software is a great choice
Save time to focus on what matters to you
As an entrepreneur you shouldn't spend time discovering the intricacies of accounting or juggling receipts and expenses. Instead, you should spend this valuable time developing your ideas and business.
Get organised and minimise errors
It's easy to lose or forget about receipts and invoices. With an accounting software, everything is organised in one place to be reviewed, reminded, reprinted and re-sent in case of problems.
An online accounting software that connects to imports transactions from your bank using bank feeds makes it even easier to do your accounting. Then, you can simply record the transactions in your software, without the worry of forgetting anything important.
Invoicing, bookkeeping and expenses in the same place
With an online accounting software you can manage your bookkeeping, invoicing and expenses together. This makes it easy to create, send, track and record invoices to your accounting without switching between software. Keeping track of your expenses is easy with an online software, and makes preparing your Self Assessment Tax Return faster.
Get a better understanding of your financial health
No matter the size of your business, you always want to know how it is performing. With accounting software you will get an accurate snapshot of your financial health with deeper insight on profits and losses, expenses, tax summaries and more.
Choosing a software with automated reporting is a great idea to keep an eye on your cash flow and get to know your finances. If your business is VAT registered, using accounting software like Bokio will allow you to submit an automated Making Tax Digital VAT Return in just a few clicks.
Forget about accounting with spreadsheets
Accounting software should be simple to use, so doing your bookkeeping isn't a struggle. If you're currently using spreadsheets to do your accounting, moving to an accounting software can make your job easier. No more confusing formulas, bridging software, doing maths, or worrying whether you're getting it right. Choosing an automated accounting solution can reduce your workload, and teach you the basics of accounting at the same time.
Keep your data secure
Online accounting software should follow GDPR guidelines, use data encryption and have regular backups to ensure your data is never lost. This means you can relax in the knowledge that your data is safe, and you won't lose any work, unlike using desktop software or relying on unsecure spreadsheets.
Seamless collaboration with your accountant or colleagues
If you're already working with an accountant, collaborating with an accounting software can make the relationship stronger. You can upload your documents, send your invoices, and import your bank transactions so they have all the information they need to manage your accounts.
When managing expenses, it's important your colleagues or employees have access to upload their expenses so you have a clear view of what's being spent.
How to choose the right accounting software
When making the decision on which software is best for your business, ask yourself the following questions:
What's the size of business?
Some softwares are designed for large enterprises and others for small businesses. You should make sure that you are selecting the one that fits your needs today but could also scale with your business.
Which features do you absolutely need?
Start by defining your needs and make sure that the software you are looking at offers those services and features.
What's your budget?
You should ask yourself if you want to spend money on an accounting software, and if so how much you are willing to spend.
How familiar are you with accounting?
Are you a beginner or advanced in accounting? If you're a beginner you might want to choose an easy-to-use software with help guides and support.
Bokio might be the right accounting software for you
Our accounting software is helping small business owners do their bookkeeping, invoicing and manage their finances.
It's really easy to use, and has guides, tutorials, and help from our support team to make doing your accounting smoother.
Whether you are a sole trader, small business, or have a limited company, our mission is to make your business successful.
You may also be interested in